With all the online and hybrid learning embedded into our busy schedules these days, it can be overwhelming and difficult to determine which teaching and learning events are most beneficial to attend because frankly, our time is precious.  With that said, the Atlantic Technological University's (ATU) annual DigitalEd Conference is one to take notice.
What is DigitalEd?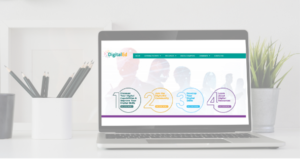 DigitalEd.ie is an online knowledge platform that was created by a teaching and learning project team in ATU to provide academic and professional services staff with a resource to discover their digital capabilities and engage with courses, guides, and tools to enable them to teach online and support flexible learners effectively in higher education.  Whilst the platform was intended to support the ATU community, it is an open resource.
In 2021, ATU (formerly Galway-Institute of Technology) launched their first DigitalEd Conference to address the emerging impact of the global pandemic on teaching and learning practices.  Over 650 attendees engaged with the 5-day conference that covered how-to sessions around online assessment and student engagement, design thinking, online delivery, and utilising Microsoft applications.
This year's DigitalEd Conference offering focussed on a variety of teaching and learning themes to include: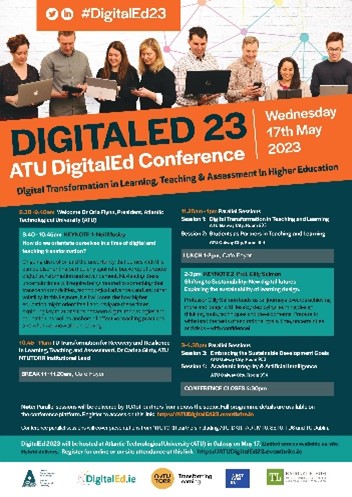 Digital Transformation in Teaching & Learning
Students as Partners in Teaching & Learning
Embracing the Sustainable Development Goals (SDGs)
Academic Integrity and Artificial Intelligence
These conference themes align to the National Technological University Transformation for Recovery and Resilience (N-TUTORR) project for Ireland's technological university sector, combining new technological universities and institutes of technology, who have formed a partnership to deliver a best-practice suite of initiatives and opportunities for the learner and staff development supported by necessary enabling technologies.
Benefits to Attending and Engaging in DigitalEd Conferences
Take advantage of the time you've dedicated to attend the event to meet new people inside and outside of your organisation.  Are you new to the organisation?  Do you have an idea that needs a sound board? Are you looking for a mentor? Introduce yourself to a keynote speaker, facilitator, presenter, or even your fellow attendees during a conference break – you never know what will come from meeting a new person!
Learn about What's Happening Inside and Outside of your Organisation
The only way to know about the hottest topics in your area of interest or the newest technology introduced to the HE sector is to be in the know.  Are you interested in learning about ePortfolios and how to embed them into your course?  You've heard about Artificial Intelligence and ChatGPT, but what is your organisation, and the wider HE sector, doing to address it?  Attend and engage in sessions that are relevant to your field of study or work to ensure you take away the relevant titbits of information and make the most of your time.  Participate in the interactive activities on offer during sessions.  Engage in discussions with other attendees to get their take on the information that is being presented.  Stay on for the Q&A portion of the sessions to find out what others are thinking and questioning.
One of the sweetest things about ATU's DigitalEd Conferences is that there is a continuous range of teaching and learning topics covered in the conference programmes, so something for everyone.  Interested in learning about a new educational application to enhance student engagement in the classroom?  Have an idea for a teaching and learning project and looking for a funding stream to support your project?  Want to find out where you can avail of training for a new application that has been introduced to your organisation?  Review the programme to find out what sessions are of interest to you, attend the sessions, and take note of important contact details of those that you can reach out to for more information.
Conference attendance is on the rise each year since this gig started in 2021 – it's never too late to jump on the knowledge bandwagon.  So just don't attend the next DigitalEd Conference but pay attention to what can be of benefit to you!
Explore past and present ATU DigitalEd Conference outputs at:  DigitalEd Conferences – Digital Ed