The definition of eHealth as outlined by the Health Service Executive, Ireland, is as follows:
"eHealth is a term to describe a set of digitising technologies in the health domain. eHealth is an umbrella term and includes electronic health records, ePrescribing, and telehealth"
(HSE eHealth Ireland, 2023) eHealth Functions – eHealth Ireland
Over the past eighteen months I have become involved with a project which aimed to create an eHealth resource for patients who are scheduled to undergo a Robotic Assisted Radical Prostatectomy (RARP) procedure. This was with the project team consisting of Richard Holmes2 ATU, and Marguerite Duggan3 Galway Clinic. This project was specifically looking at a subbranch of eHealth as defined by eHealth Ireland as 'telehealth'. This is a type of eHealth resource, and the aim of this project was to create an online, accessible resource for patients and their support network to access digitally about three key stages of the RARP procedure: 1) Before 2) During 3) After. The aim was to have this be accessed at any time, with anyone i.e. the patients support network, and in its design be accessible for the audience. This project has several phases which are described below:
Phase 1 involved:
Identification of the issue i.e. patients gap in knowledge of the RARP procedure.
Researching what has been done within the medical field around addressing a gap in knowledge for patients who undergo a procedure.
Running a pilot on the concept of additional support and information for the RARP procedure. This involved one to one meeting's carried out by Marguerite Duggan who has completed a master's around this project by organising this pilot. Due to COVID-19 these did have to be done online due restrictions around visiting hospitals.
An evaluation of this pilot by gathering feedback from the patients who took part in these pilot information and support sessions.
Phase 1 Status: Completed.
Phase 2 involved:
Expanding the research team and bringing in a learning technologist to lead the development and design of the telehealth programme for the RARP procedure.
Organising, recording, and editing of professional videos involving staff who are involved in the RARP procedure in the Galway Clinic plus a patient recommendation for the information and support for the RARP procedure.
Professional animations were also developed for self-care which patients and/ or their support network are required to carry out after the surgery. These animations demonstrate these tasks which is hoped will help the patient and their support network complete these tasks after their surgery.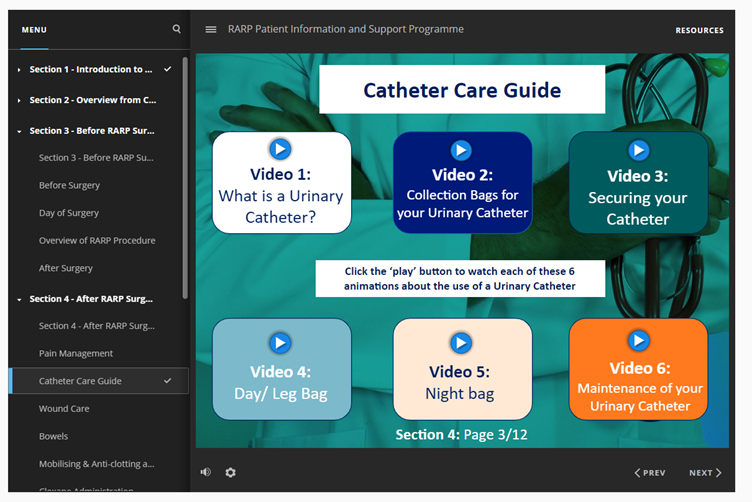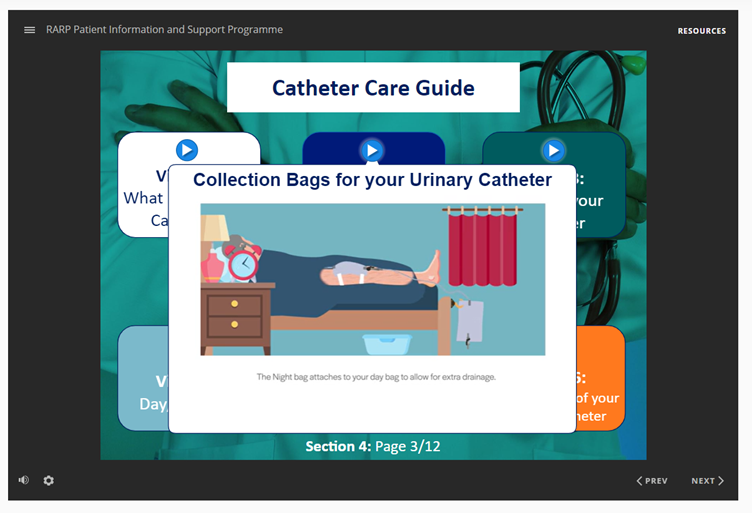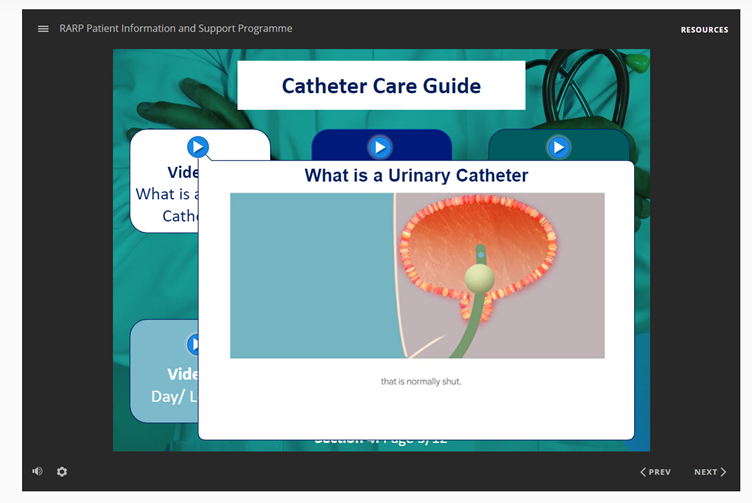 The project team worked together, and I (Kevin Cunningham – Learning technologist) worked on designing this RARP Patient Information and Support programme. The subject matter experts on the project team guided me and when a draft was developed, further evaluation was acquired from relevant staff in Blackrock Health Galway Clinic.
Once all feedback was acquired and the final changes were made, this eHealth, telehealth programme i.e. RARP Information and Support Programme, was uploaded to a webpage so that this URL could be given to patients to pilot it.
Evaluation surveys were created for patients undergoing the procedure which would be given several weeks after their surgery having been given access to the telehealth programme several weeks in advance of their surgery. In addition, patients who took part in the pilot in phase 1 were asked to review the telehealth programme and provide feedback via a survey to compare and contrast versus their experience with the in person i.e. online video calls, pilot which they were involved in for phase 1.
Phase 2 Status: Pilot in progress.
Phase 3 will involve (As of February 2023, this project is at the pilot stage of phase 2):
This will include making amendments based on feedback gathered from patients as part of the pilot of this telehealth programme.
Once all amendments have been made to the programme, this will be then added to the Galway Clinic website for use going forward for RARP patients and their support network.
The project team will finalise other aspects of the project: Editing and finalising a professional video summarising this project and creating a generic version of this programme to be shared with public hospitals who perform this procedure also.
Finally, and importantly, once the data has been collected, the team are hoping to put together a paper in the hope of publishing a peer reviewed paper on this project.
Feedback on this telehealth programme to date has been largely positive. This is generally because of how it can be accessed anywhere via a device connected to the internet and with their support network present. Those viewing it can do so at their own pace and think about the information which is being presented and may prompt them to have questions they may not think of on the spot had they not had access to the programme. The aim of this programme is to supplement the in-person hospital experience, not replace it or the support which is provided in this way. A key part of feedback while positive, does highlight this and it is something which perhaps could be communicated to the patient and their support network more effectively. This project has highlighted that it is possible to utilise software such as e-learning programme software for the purpose of supporting patients through certain procedures. This type of software is used extensively for various types of training: HSE Land, LinkedIn Learning and many other training platforms which utilise this commercially and even in public sectors for a variety of reasons. It has some limitations, but it can be utilised to enhance a person's knowledge and awareness in relation to a particular topic and even for tasks, therefore, there is no reason why this cant be applied to medical procedures, especially if there are gaps in knowledge for a medical procedure.