Speakers:
Anne Morrissey, School of Mechanical and Manufacturing Engineering, Dublin City University
Irene Hayden, Galway / Mayo Institute of Technology, Department of Building and Civil Engineering
Úna Parsons, School of Engineering & Design, Institution of Technology, Sligo
The recording of the event is available here and a compilation of the slides can be downloaded here (3 MB).
Speakers contact details and further information:
---
As engineering academics prepare for the new academic year, the Engineers Ireland Academic society hosted a free webinar on September 3
rd
, on the topic of
Remote and virtual laboratories – equipping students for hands off learning
.
This was the first seminar in a series that will be offered free of charge to member and non-members of Engineers Ireland, in the spirit of collegiality to share opportunity and innovation in the classroom and to inspire all academics and technical staff in the engineering education sector.
The webinar was chaired by Una Parsons, CEng, FIEI, Head of Faculty of Engineering and Design at IT Sligo and Chair of the Academic society who welcomed delegates to the webinar. With over 300 registered for the event, there were 174 unique viewers on the day. Anyone not available to listen live will be able to access the recording, with the link available below. The delegates came from all over the island of Ireland with other attendees some tuning in from the UK (12), Germany (3), Uganda (2) and one each from Switzerland, the US the Philippines and Spain. In her opening address, Una Parsons remarked that engineering academics responded to the COVID-19 pandemic by moving teaching and assessment online; however, the delivery of laboratories and other 'hands on' activities can represent challenges for both academics and technical staff. The focus of the seminar was to showcase some ideas from key practitioners to give the academics and technical staff some helpful guidelines on how to move forward. To give some context to the practitioner talks, the findings from a recent survey of over 19 higher educational institutions (Figure 1), representing 16 engineering disciplines across the island of Ireland were presented by Irene Hayden, CEng, MIEI at the webinar. The survey sought to investigate how each higher education institution will deliver and assess engineering programmes in the next academic year in light of COVID-19 constraints.

Focusing on the delivery of engineering laboratories at the webinar, the survey found that 57% of engineering laboratories were delivered differently post March 2020 and 43% stopped completely – mainly because the laboratories were completed for that semester and students were finalising their assignments. In some areas, assessment practices in relation to laboratories were revisited and simulation and improvisation were utilised. In addition to increased use of Technology Enhanced Learning, emerging solutions, such as utilising remote and virtual labs, students taking home lab kits and working remotely and collaborating with team-mates using Microsoft Teams, were also utilised. Although the survey highlighted numerous challenges, such as the uncertainty regarding COVID-19 and the need for high quality PCs among the student body, the feedback from engineering academics and technical staff from across Ireland also highlighted the vast opportunities to innovate and create even better learning experiences for students in higher education than previously conceived. The survey revealed that blended delivery using synchronous and asynchronous Technology Enhanced Learning online will be commonplace and novel solutions will come to the fore. Equally, the survey also highlighted that many institutions will still hold practical classes on campus with distancing and good practice in place. Critically, feedback received also highlighted that good leadership and management by module leaders, programme boards, middle and senior management will also help academics rise to the challenge posed to engineering education by the current pandemic.
The second speaker was Luis de la Torre Cubillo from Universidad Nacional de Educación a Distancia (UNED) who spoke about Online labs: new ways for providing lab practice experiences in distance and blended education contexts. UNED are one of the leading providers of online education in Europe and has vast experience in not only delivering teaching online, but also providing a means for online students to conduct experiments remotely. During his talk, he demonstrated the difference between online delivery (simulations) and remote delivery. (Figure 2)

The students can connect to the online laboratory using whatever device they have available, using a platform such as Moodle to link the students to the physical laboratory (Figure 3).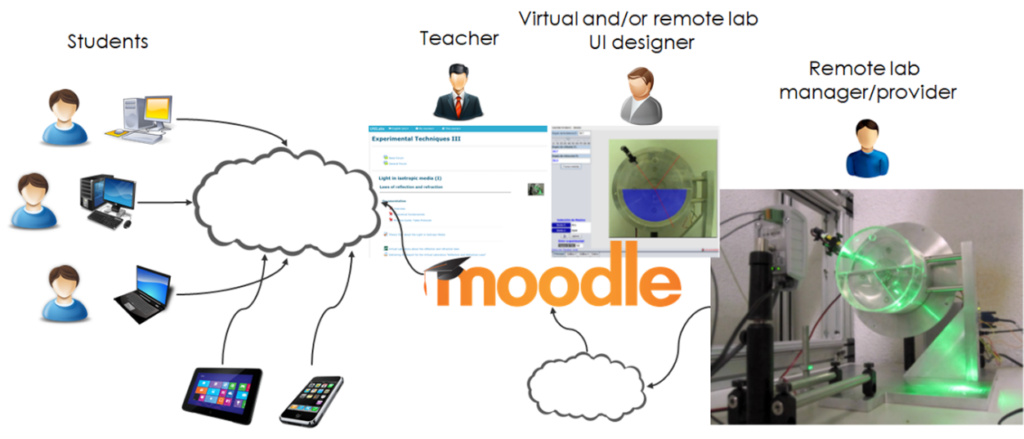 However, enabling a controlled and secure access to lab equipment is not easy or fast and teachers and laboratory technicians usually lack the knowledge required for Online Laboratories and do not always have the time to set this up.  To help teachers learn from each other, a collaborative network called ENLARGE (rEmote controlled Access to InteRnet of thinGs dEvices (irs.nebsyt.com)) has been set up, which provides tools to assist in the network management of connected devices and includes a variety of modules and components to make a teacher's life easier when making things accessible while keeping them completely secure. Anyone can join and details on how to do this are available here.
The third speaker, Michael Doherty from NI (National Instruments) gave a very different perspective in how to find practical ways to offer laboratory practicals to remote students. In a talk entitled Transitioning practical laboratories to include remote laboratories, he spoke about the fact that educators are realizing that students must be taught using experimental, hands-on methods that emphasize teamwork, creativity, and project management. This approach reinforces the connection between fundamental concepts and system-level design that is needed to produce competent engineers. An example of this approach is Project Based Learning. So how can this happen online, particularly as the traditional view among teachers is that engineering is a "hands-on" subject and very difficult to teach the skills they need remotely. Michael gave three very practical approaches to addressing these challenges ranging from simulation only solutions, to connected laboratories that can be accessed remotely, to student owned pocked labs, each with their own advantages and cost implications. One example is to use an NI product called NI ELVIS III as an interface for remote labs (Figure 4), which enables one pod of students to do a lab on campus, while another pod could be doing the same lab remotely. Full details on how this works in practice is available in a longer presentation available here.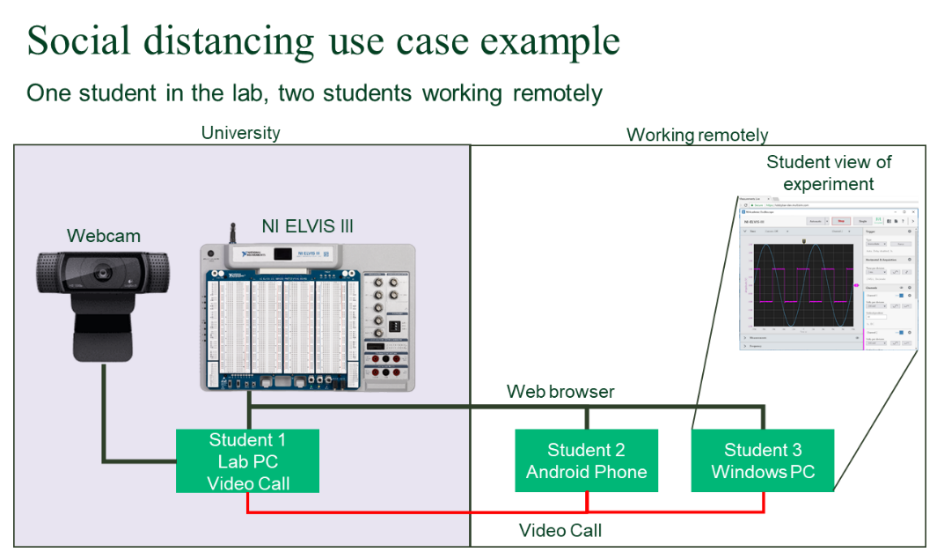 The final approach is to provide students with their own Personal Labs or Students-owned "pocket labs" (Figure 5). NI have an offer on currently for any third level college that would like to adapt this approach. Details are available from ni.com

The final speaker of the morning was Brian Mulligan Head of Online Learning Innovation at IT Sligo. With more than 20 years' experience of teaching online, Brian Mulligan's talk focused on how to build an international peer-support community for remote and virtual laboratories. With so many solutions available, how does a teacher entering the online teaching environment for the first time, begin to find out the best way one for a given situation? With a community of practice, members can share ideas and designs, share access to key support systems and share the workload in finding out what is there. There is no need to reinvent the wheel, but it is always a possibility through collaboration to find the best one for specific requirements.  An example of such a peer- support community is the "Labs for Remote Learners" (Figure 6) available through LinkedIn. The overall message is that we should not be afraid to share ideas with our peers, as the benefits outweigh the risks and the solutions are usually richer for the collaboration.
Other useful tools identified by participants at the webinar were:
For anyone interested in listening back to the webinar, a recording is available to members of Engineering Ireland on the EI YouTube channel.  
The Engineers Ireland Academic society is a network of academic engineers and engineers in industry with an interest in teaching and learning. Our mission is to promote the professional development of academic engineers and the advancement of academic standards in engineering. Members share ideas and experiences on career development, the latest teaching and learning methods and the recognition of best practice. Membership of the Society is open to anyone who has an interest in the teaching of Engineering and we would encourage you to join the Academic Society here.