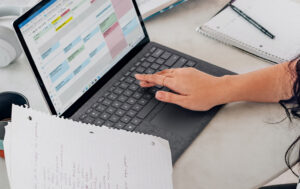 An online assessment resource guide to support GMIT academic colleagues' engagement with online assessment. The Online Assessment Guide (see attached) presents five sections including:
Section 1: A range of online terminal exam/assessment options, requirements, set up and considerations.
Section 2: Selecting online alternatives to common assessment methods (National Forum, 2020).
Section 3: Academic integrity considerations.
Section 4: A programme of assessment themed training events including webinars and workshops that can be booked here. Plus, learning technology design clinics (AMA on Assessment – Ask Me Anything, 15-minute express clinics) that can be booked here.
Section 5: Additional assessment resources, you may choose to explore. 
Note: all resources presented and linked in this guide are available to access on the BOLT Teaching Remotely site and GMIT Teaching and Learning Office resources section. All video training resources are also available on the GMIT Teaching and Learning Channel